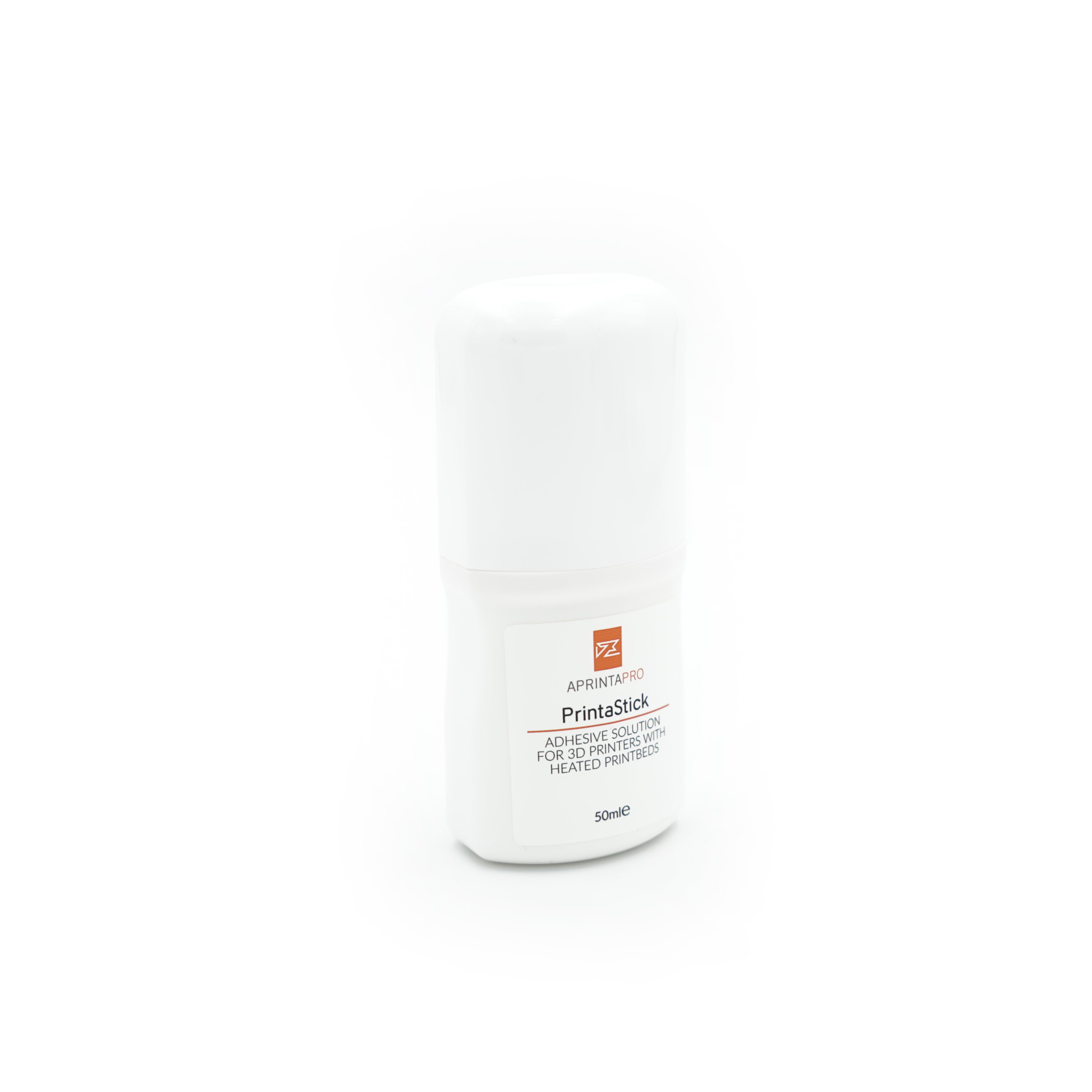 PrintaStick 50ml
€5.94*
Content:
50 Mililiter
(€11.88* / 100 Mililiter)
Available in 7 days, delivery time 1-3 days
PrintaStick 50ml compensates CO2-Emissions equal to 10 times its weight. Learn more
Product information "PrintaStick 50ml"
PrintaStick was engineered to solve the problem of warping! It is easy to apply adhesive for build plates that works with all common 3D printing materials and secures the 3D print until the print has finished. The formula is so powerful that for most prints the use of a raft or brim is not necessary saving time and material. The sponge applicator makes the usage easy, precise and effortless. During application and printing, PrintaStick does not release or produce any unpleasant smell, and after the print is finished, there is no visible trace of the solution on the 3D print. The formula is high temperature resistant and can therefore be used also for technical materials. Advantages Strong formula works for many materials precise to apply high temperature stable no unpleasant smell
Instructions
Prepare: Shake PrintaStick for a few seconds to mix the solution. Only apply on a cold residue free printbed. If necessary you can use PrintaClean to remove residue from the printbed.
Apply: Apply PrintaStick by pressing the sponge applicator on the printbed to release some liquid. Then spread the liquid by moving the sponge in a circular pattern over the printbed. If the sponge hardens – rinse with clean water to soften.
Print: Start the printing process with recommended temperature settings. The liquid will dry up during the heat up process of the printbed.
Clean Up: When the printbed cools down the print will loosen from the build plate. Clean up with warm water.
Labeling according to Regulation (EG) Nr. 1272/2008 (CLP)
This product is not labeled as dangerous.
General precautions
Keep out of reach of children. Avoid breathing mist/vapours. IF IN EYES: Rinse cautiously with water for several minutes. Remove contact lenses, if present and easy to do. Continue rinsing. Store in a well-ventilated place. Keep container tightly closed. Dispose of contents/container in accordance with local regulations.
Technical Data
Supplemental information
| | |
| --- | --- |
| Tariff Code | 3905 1200 |
| Country of Origin | Austria |
| Product weight | 0.05 kg |
| Shelf Life | 12 Months |
| Shipping weight | 0.09 kg |
| Packaging Dimensions | 48 x 38 x 107 mm |
| Shipping Restrictions | Not Restricted |
| SKU | 1003 |
| EAN Code | 9120078080078 |
Download Section